Cookies & Privacy
On this page you can find an explanation of how we use Cookies
on our website and also details about our Privacy policy.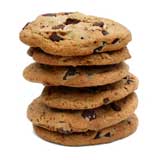 Cookies
Here you can find out more about what 'cookies' are, how they are used on the Crystal Herbs Wholesale site and how you can switch cookies off in your web browser.
Please note that if you continue without changing your browser settings, we'll assume that you are happy to use cookies from the Crystal Herbs Wholesale site.
What are Cookies
'Cookies' are not actually programs, but simply small text files that are stored by your browser (e.g. Firefox or Internet Explorer) on your computer or mobile phone. Normally they will contain two pieces of information: a site name and unique user ID and they allow websites to store such things as user preferences, thus enabling the site to recognise a user and respond appropriately.
How We Use Cookies
Account Log In: When you log into your Crystal Herbs Wholesale Account our site generates a cookie which keeps you logged into the wholesale shop section of our site. Without this cookie you will not be able to remain logged into the shopping or resource sections of the wholesale site.
Online Shop: The shopping area of our site uses basic Session Cookies to keep track of the contents of your shopping cart once you have selected an item, for logins and other temporary data. These cookies are essential to the functionality of the shopping cart and while you may choose not to use these Cookies, this will mean that you won't be able to use the shopping cart facility.
Anonymous Website Analytics: We use Google Analytics to help us to understand how you, our visitors, interact with our site. Here is how Google describe their use of cookies: "Google Analytics uses cookies to define user sessions, as well as to provide a number of key features in the Google Analytics reports. Google Analytics sets or updates cookies only to collect data required for the reports. Additionally, Google Analytics uses only first-party cookies. This means that all cookies set by Google Analytics for your domain send data only to the servers for your domain. This effectively makes Google Analytics cookies the personal property of your website domain, and the data cannot be altered or retrieved by any service on another domain." Google Analytics cookies do not collect personal data about website visitors.
How do I turn cookies off?
If you do not wish to use Cookies you should find that it is possible to prevent your web browser accepting cookies or to be selective about which sites you accept cookies from.
Modern browsers give you the option to manage your cookie settings; normally these can be found in the preferences or options menus. These settings will typically be found in the 'options' or 'preferences' menu of your browser.
* Please note that turning off Cookies altogether may cause some aspects of a website either to work only partially or not at all.
If you have any questions or queries about our use of cookies, please contact us.
Our Privacy Policy
We do not disclose any customer information to any third parties or other companies, other than those required to process your order.
The information collected during the course of an order ( name, address etc ) is only used to process your order ( though we might occasionally post you an update sheet, or special offer, please make a note on your order if you do not want us to do this ).
The shopping area of our site uses Cookies, but only to keep track of the contents of your shopping cart once you have selected an item ( you may choose not to use Cookies, but this will mean that you won't be able to use the shopping cart facility.).
We do not send random marketing emails to personal email addresses (spam).
We conform to the requirements of the Data Protection Act, 1998.
Any questions or queries, please contact us

Handmade with Love & Care
From making the Mother Tincture to bottling and labelling the stock bottles that we send you, each essence is handmade with love and care, helping to ensure that we provide you with the best possible quality of essence.